Who are we?
We are the Social Series of OCC. Riders meet every fortnight on Sunday at the Buttercross leaving at 9.15 am. Rides average 10 mph -12 mph over predominantly flat terrain with a cafe stop and max distance of 30 miles, back for 1 pm. Riders head to the Fleece afterwards to share the day's tales.
Rides are perfect for new riders looking for companionship and an opportunity to develop their skills. No-one is judged for their gear, their bike, fitness levels or cycling experience. We wait for people at the top of hills and our motto is, 'No-one gets left behind'.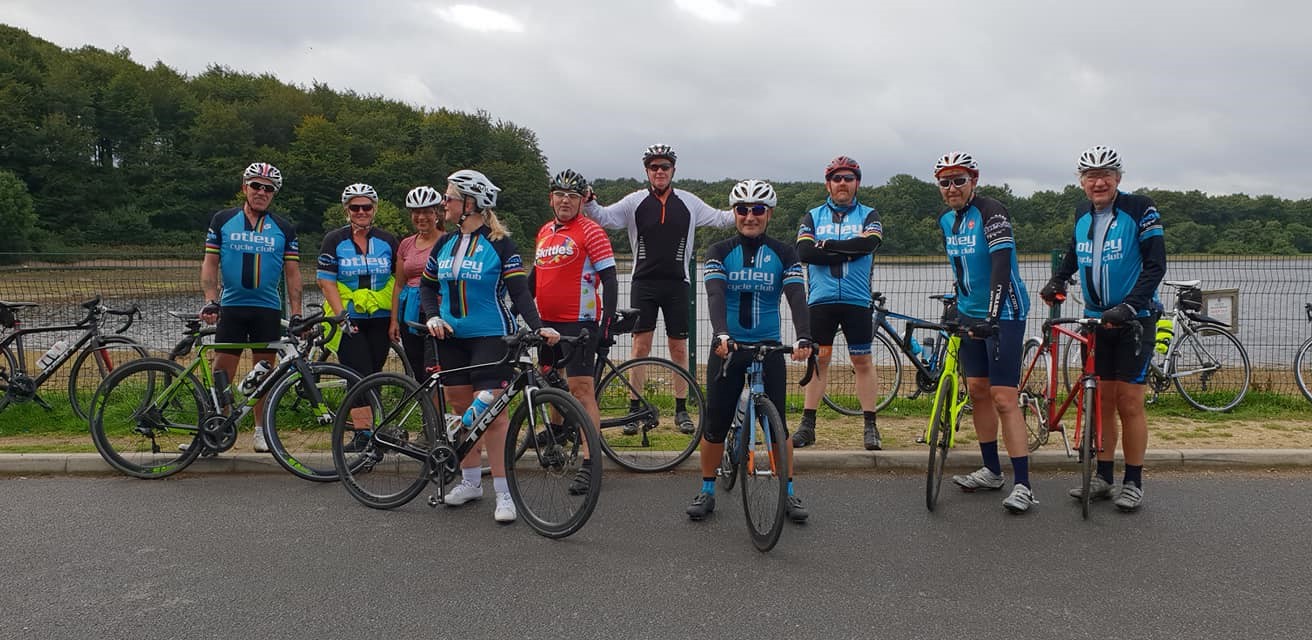 Our Aims are:
To offer regular social cycling rides where people matter more than anyone's bike, skill, or fitness level.
To organise occasional events such as bike maintenance tuition and social evenings for members, partners, and friends.
To enjoy ourselves as we get people cycling.
Are we the right section for you?
If you are new to cycling or riding in a group don't panic, we were all like you once. New riders join us all the time and everyone is always welcome. We meet regularly to cycle, chat, keep fit and enjoy the beautiful Yorkshire countryside.
Our rides are suitable for beginners, or those who are happy to ride at a leisurely pace. We plan routes and distances to account for all abilities and experience.
What kind of bike and accessories will you need?
You do not need any particular type of bicycle: mountain bike, folder, hybrid, road bike, ebike. Any roadworthy bike will do, but please bring a spare inner-tube of the right size, and basic tools (puncture repair kit, tyre levers to remove tyres, tyre pump etc). Do not worry if you have no idea what to do with these tools, we will help! There are plenty of group members who will be only too happy to do "get you home" repairs.
These tools are available to club members at a 10% discount from Chevin Cycles (show your membership card).
Helmets are required on all OCC rides. Please make sure yours is in good condition. You do not need specialist cycling clothes to join a ride, but do make sure you are reasonably waterproof (and warm in winter), have sweets (for energy), money for coffee and cakes and a full water bottle.
The club has set out specific guidance on Ride Safety and Riding in a Group on the web page Ride Etiquette .
Cycle Security
The places we ride are magnificent and beautiful and appear safe and welcoming but thieves get everywhere, and bikes do get stolen at cafes so bring a bike lock and always lock your bikes at café stops.
Wednesday Evening Social Rides
1 or 2 rides leave Buttercross at 7 pm and return by 9 pm on Wednesday evenings. Rides are typically 25 miles with drinks and food afterwards at The Fleece. Bring lights, if not for the initial ride, for your journey home.
Abbey Dash
Weekly, 22-mile ride on Tuesday mornings to the Abbey Tea Rooms a Bolton Abbey. Riders meet at the Buttercross at 10 am returning to Otley by 1 pm. Riders should treat this as a training ride, riding out at their fastest pace over back roads and predominantly flat terrain, before riding back, after refreshments as a group.
Riders expecting a more leisurely pace often form a small group for the outward ride. Members may also join the ride from other start points simply to meet up for coffee and a chat.
Gentle Saturday Rides
A fortnightly sociable, gentle ride (approx. 20 miles) with a coffee stop aimed at new riders or those coming back to fitness or from injury. No-one gets left behind.
Other Social
During Covid, with club riding suspended, many members formed regular or impromptu, midweek private ride groups, e.g., Fridey Ridey. This category is for members to post some of these previously private social rides on the club's ride App, which may then appeal to like-minded members and become regular club rides.
Keep an eye on the Otley Cycle Club Members Group page on Facebook. If you have still got questions after reading everything here, and are uncertain about joining us, we'll more than happily try and answer your questions at otleycycleclub@gmail.com
Fancy volunteering?
We could not put on Social Series rides without a nominated volunteer guide and backmarker. If you are interested in volunteering, please look at our Volunteers page.
What next?
You do not need to be a member to join a ride. We operate a 'try before you buy' policy, so feel free to join one or two rides before paying your membership fee. If you have enjoyed riding with us u> become a member and experience the benefits of membership.