Our 12-hour challenge
Christine Bell and Rachel Crowther, Otley Cycle Club
If we look back to the reasons why on 31st of July, 2016 at 6.37am Rachel and I set out to cycle 12 hours on a tandem I suggest we start with those bluebells….
In 2014 I did my very first-time trial round our club TT "The Triangle". At the end of my ride, I got some curious looks when I commented about the beautiful bluebells on Harrogate Road. Clearly, I was not trying hard enough if I was noticing the bluebells. I thought this was a shame as the views have always been a big part of my enjoyment in cycling.
When I shared my disappointment about the lack of time trial bluebell appreciation Claire Jessop observed that the 12 hour was a nice route and you had a bit more time for flower gazing. So that was it…here was a way to combine my desire for stretching myself with my love of a bit of scenery and so the spark was lit.
It then become a bit of a blur quite how and when we hit on the idea of doing the 12 hour together on a tandem….it was probably the fault of the legendary Billie Fleming. During 2015 Rachel Crowther and I both led long rides as a Tribute to the amazing achievements of Billie Fleming. We became close friends and somehow the tandem and the 12 hour became our joint challenge!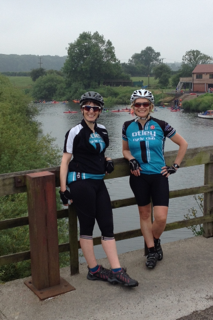 Challenge on but no Tandem
We both had some experience of tandem riding but neither of us owned a tandem and finding a tandem for small women with a small budget was starting to feel an impossible challenge. However, as our Mini-Flyers demonstrate, nothing is impossible at Otley Cycle Club. Once again Claire Jessop stepped in, from our flower gazing inspiration to our tandem procurement agent. She found a friend with a small women's tandem for sale. The deal was done and on a wet cold day in December we got the train to Skipton, picked up the bike and rode back from Skipton, the training had started.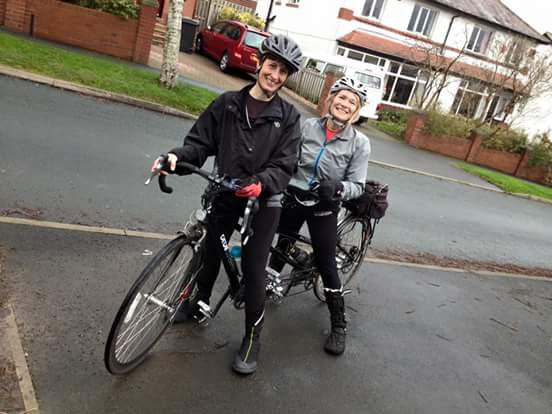 A bit of a plan……..
We had no idea how best to train for a 12 hour but we got lots of tips from club members. We devised a plan and from January increased our normal mileage and got used to riding together on our solos or the tandem. Many club members seemed horrified by the thought of 12 hours on a tandem and we suspect some may have understandably doubted if we could really complete it. We are not time trial veterans and we both joined the club to do half day social rides. We are just "normal" women trying to balance home responsibilities, work responsibilities and our love of cycling. But we knew from our Billie Fleming rides that we were both determined and stoical, we are not women who give up easily and we both just love to cycle as much as we can! So, we just kept cycling throughout the winter, spring, summer……through hail, wind, rain and occasional sunshine. We cycled when a bit poorly and tired. We squeezed in rides between shift work. Gradually we increased our ability to cycle for hours and hours…without a coffee stop!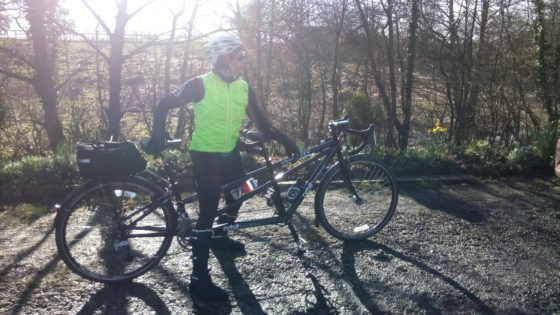 The Day Dawns
At last, it was 31st July and after a slightly sleepless night we were up at 4.30 having stayed at a nearby bed and breakfast. It was great to see other Otley members as we arrived, both riding in the 12 hour event and supporting others and also club members who were doing the 50 and 100 mile events on the same course.
Then it was our time to set off, 6.37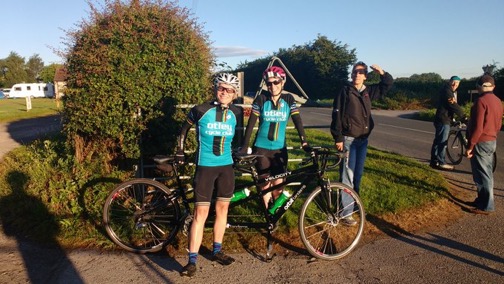 …… and like all time trials the nervous countdown and then just calm, just pedal, pedal and pedal….for 12 hours…..simple.
It was such a relief just to get going, to finally get a chance to see if all our hard work and preparation was enough to make sure we could stay on and complete the 12 hours. We had done a practice run of the course a month before on our solos but this was the first time on the tandem so we were delighted to complete the first loop in good time.
Brian Keighley from the club and Rachel's parents were our support team and they were brilliant, encouraging and helpful throughout. Throughout the day we were thrilled by the number of people who turned up to cheer us along. It actually does make a huge difference. We could not stop and chat but getting those cheers through the start area and at random places on the course from club members, marshals and our families just helped us to keep going and smiling. A huge thank you to the many people who made a special effort to drive over, to do a short TT "to keep you company" or who made special rides out to see us you are all brilliant and part of our successful completion.
Friends on and off the bike
Getting to know each other better was an important part of our training, you cannot just rock up on the day and get on a tandem and ride. You need to understand each other and the different moods you go through when riding. We kept each other going when we had little dips and distracted ourselves from the long-time ahead by celebrating what we had done so far and by observing the flowers, the plants and the pubs on the route. We were overjoyed when the pumpkin stall finally had made some sales by our 4th circuit!!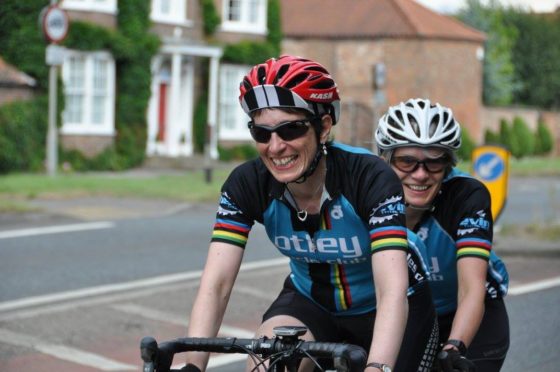 Did it hurt?
The hardest bit was the last two hours. We really had to pull on all our strength to keep going as everything was starting to hurt and the head wind was fierce. The big boost was when we had met our 150 mile target, we knew that we could be proud that we were going to smash our target.
We had been warned about the end, you keep cycling until a time keeper tells you to stop, we kept hoping ….then….."3 minutes to go girls" so we tried to pedal as fast as we could until we got to the next timekeeper…….on and on and on….. hoping that each parked car was the magic timekeeper. Finally, "you can finish anytime now girls". We then burst into tears of joy over each other for a challenge completed in style and with a credible mileage of 187 on our clock.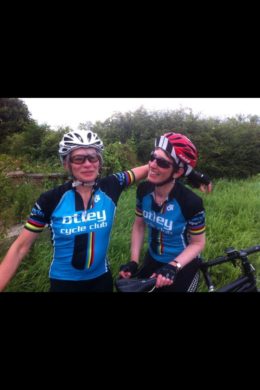 We were very grateful for the best ever support team who were ready to pick us up and transport us back to the headquarters for the best ever cup of tea and a chance to celebrate with our husbands and with other riders and club members.
Cycle, sleep, repeat?
So would we do it again…. Probably….maybe…. yes. The actual ride is just so blissful. When do you get 12 hours to just focus on cycling? No worries about how long the ride is and whether you will get back by your promised time. No thoughts about what to cook for tea or responding to calls on the ride from school/work/family…nothing just cycling for 12 wonderful hours with your best cycling mate at your side and a team of people supporting and cheering you along. That was brilliant!! But the training …. pushing yourself to squeeze in extra miles, worrying about the different aspects of the ride, explanations to friends and family about why you are always on your bike….that all took a lot of effort and commitment and was way harder than the actual 12 hour ride. So let's see how we feel in January and hopefully others will be inspired to give it a go next year!
It was only possible with the help of many
Finally, many thanks to all the many people who made this possible, especially Team Swift for organising the event. To Claire for inspiring us, to John, Brian and Joan Morris for turning up to support on the day, to our fellow 12 hour riders – Gary, Ali and Phil – well done to you all. To all the club members who turned up to cheer, marshal or even ride the 50/100 mile with us on the day. To all the people who generously shared their 12 hour tips with us in person or via blogs or lent us essential non branded arm warmers! To the team at Chevin Cycles for the tandem fitting session and repairs and replacements of pedals and saddles! And, to Adrian Thompson and Andrew Crowther who endured 8 months of cycling obsession with good grace, without your support and encouragement this ride could not have happened.